With the release of the Preliminary 2022 ODA Figures, the global community faces the reality that ODA continues to be precarious when it is needed most.
The 13.6% increase in ODA in 2022, although relatively commendable, paints a misleading picture especially with how in-donor refugee costs captured a major part of donors' financing while neglecting core development areas.
Our analyses show that with the exponential increase in in-donor refugee costs and assistance to Ukraine, ODA in 2022 was not as outstanding as what the OECD-DAC expresses. In fact, computations show that the figures are relatively similar to past years despite worsening global challenges that need a more robust response.
The reality of aid in 2022 illustrates that geopolitical, national, and economic interests of donors and governments, as well as existing unequal aid relationships largely manipulate how ODA is being provided to global South countries.  
Due to the contentious usage and reporting of ODA by donors, preserving its integrity continues to be critical especially today as global crises intensify. There is a need to assure that assistance to Ukraine is additional from the budget allocated for core development issues and that IDRC is entirely set apart from ODA.
In a time when the world continues to face tremendous crises and fragmentation due to the climate emergency, war and conflicts, crippling poverty, and vexing debt conditions among others, development cooperation and finance must take center stage in order to ensure that the marginalized have safety nets and capacities to overcome these global challenges.
With the release of the Preliminary 2022 ODA Figures, the global community faces the reality that ODA continues to be precarious when it is needed most. On the surface, at USD 204 billion, a large 13.6% increase from last year's figures seemingly paints a positive picture. Compared to 2021, donors' total GNI to ODA has increased from 0.33% to 0.36%. Among all donor countries, only five met and exceeded the UN's 0.7% GNI to ODA commitment – Denmark (0.7%), Germany (0.83%), Luxembourg (1.00%), Norway (0.86%), and Sweden (0.90%).
What does civil society need to look out for in the 2022 figures? The increase in the 2022 data is welcomed by many in our ranks. However, there is a need to probe these numbers  as they show how aid continues to be under distress due to specific donor interests. With many donors gearing their aid towards in-donor refugee costs (IDRCs) and assistance to Ukraine, analyses will show how long-term development challenges and the integrity of ODA suffer when some priorities are given more importance than others.
For decades, the global South has been grappling with dwindling socioeconomic assistance provided to them as part of donors' historical commitment and responsibility despite yearly escalation in global crises. The contentious increase in ODA in 2022 illustrates that aid allocations for crucial purposes such as eradicating poverty and reducing inequalities, peacebuilding and conflict prevention, and establishing stronger capacities for global South nations remain the same, with some areas even getting lesser attention.
Unfolding the data
The increase in overall ODA does not hide the fact that the commitment to meet the 0.7% GNI to ODA target remains sidelined by the majority of the donors. The increase to 0.36% of GNI, although commendable, is still not worth celebrating. While donor commitments to support Ukraine in the context of the Russian invasion are urgent and welcome, trends related to rendering assistance for core development purposes, excluding IDRC, and discounting support for Ukraine, continue to be worrying. For instance, ODA to least developed countries (LDCs) only amounted to USD 32 billion, a 0.7% drop in real terms compared to 2021 data. In a time when LDCs are the most affected by the climate crisis and bludgeoning debt conditions, donors' UN commitment to allot 0.15-0.20% of their GNI continues to be distant from what they are actually providing. Meanwhile, net ODA to Sub-Saharan Africa only stands at USD 29 billion, a fall of 7.8% in real terms.
On the other side of the ODA figures narrative, IDRC from 2022 amounted to USD 29.3 billion which represents 14.4% of donors' total ODA. Removing it from the overall ODA computation, aid from 2022 actually only rose by 4.6% in real terms compared to 2021. Furthermore, net ODA to Ukraine is 7.8% of total aid in 2022 and sits at USD 16.1 billion.
Amid the intensifying Russian war against  Ukraine, and the resulting increase in forced displacement of Ukrainian people in host donor countries, assistance to them is a human rights obligation that donor countries must fully adhere to, for which donors are well resourced to meet without drawing from, or inflating ODA intended for developing countries. For civil society, this is a non-negotiable responsibility. However, it must be noted that addressing such crises should not be an obstacle to responding to long-standing humanitarian, development, and peace challenges.
Disaggregating the preliminary 2022 ODA figures, it is important to look at how much assistance is actually available for other humanitarian and development challenges in the global South. REAL ODA focuses on what is actually available in principle to developing countries – IDRC, imputed support for students, debt cancellation and interest received on previous ODA loans. REAL ODA tells a different story on aid resources that  are at the disposal of donors to respond to longstanding development issues such as poverty eradication, educational crisis, debt distress, conflict, climate change, and many others.
In order to determine and assess the state of ODA today in relation to how the pandemic response, IDRC, and assistance for Ukraine largely shaped the allocation of assistance, we will make 2019, the year prior to the COVID-19 pandemic, as our benchmark. As indicated in Graph 1, taking account the pandemic and the war in Ukraine, ODA in 2022 only increased by approximately USD 100 million compared to 2019, despite worsening socioeconomic, political and environmental conditions over these years.
Graph 1. Trends in ODA in 2019 and 2022, net IDRC, COVID-19 Control and War in Ukraine
Source: Brian Tomlinson, AidWatch Canada, Author calculation based on DAC CRS and preliminary ODA figures (April 2023)
Accounting for the pandemic response and aid directed to Ukraine, and discounting IDRC, ODA that could be directed to other development and humanitarian purposes only increased by 7% in three years since 2019, and has actually fallen by 9% between 2021 and 2022 (Graph 1). Looking at these trends, and in contrast with the large increase in IDRC and support for Ukraine, there truly has been no sufficient increase directed to  other development needs beyond these priorities.
Comparing ODA in 2022 (USD 204 billion) to 2021, IDRC jumped from USD 9.3 billion in 2021 to USD 29.3 billion last year. When this is removed from current ODA for each year, the result is USD 177.9 billion in 2022, up from USD 165.3 billion in 2021. While there is still a significant increase, it is entirely accounted for by escalated aid to Ukraine in 2022. Notably, with this exponential increase in IDRC, ODA fell across 12 donor countries in 2022 when IDRC is discounted, instead of just four.
In terms of donor generosity measured as ODA's share of their GNI, 2022's record of 0.36% is also misleading if we focus on REAL ODA that does not involve IDRC. Discounting it, the ODA to GNI ratio for all DAC members in 2022 is only 0.27% – similar to that of 2019 (Graph 2). An obvious image is projected here – donors' generosity in light of today's compounded crises, beyond the pandemic and support for Ukraine, has not changed despite heightened social, political, and economic predicaments.
Graph 2. DAC Real ODA Performance compared to 2019, prior to the pandemic and war in Ukraine
Source: Brian Tomlinson, AidWatch Canada, Author calculation based on DAC CRS and preliminary ODA figures (April 2023)
Zooming in on the impact of the dramatic increase in assistance to Ukraine in 2022, ODA actually falls by 4% in 2022 compared to 2021 when this support is discounted.  The result is a total for ODA that is almost at the same level as in 2020 prior to Russia's invasion. For almost all DAC donors, assistance to Ukraine in 2022 was generally not additional to their overall aid provision. The top five donors for Ukraine in 2022 are the United States, Canada, Japan, Norway, and Germany. Among them, only Germany's 2022 aid to Ukraine is additional to their overall ODA. For 18 DAC donors, 2022 aid to Ukraine was not additional, or in a few cases, partially additional. As a result, Ukrainian aid, important as it was, came at the expense of other core development priorities affecting the capacities of many countries in the global South to overcome the impacts of overlapping global challenges (Author's calculations based on available DAC data).
The Reality of Aid in 2022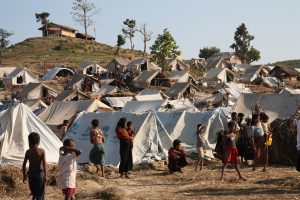 The data analysis above reveals a grimmer and disappointing image for development cooperation and financing today. For one, the preliminary ODA figures present a misleading reality – an illusion that efforts of donor countries are finally materializing to respond to global challenges and meet the Sustainable Development Goals (SDGs).. Certainly and relatively deserving of praise, REAL ODA did increase from 2019 to 2022 by USD 34.7 billion – significant but still minimal in relation to existing and sprouting global crises, including the pandemic and the war against Ukraine.
With skyrocketing IDRC, which are non-additional expenditures for several major donors, the essence and integrity of ODA is shrouded with uncertainties. There is no substantive rationale for treating IDRC as ODA.  It means  that aid merely circulates within donor countries while expenditures for critical development purposes in the global South are reduced. The inclusion of IDRCs, under the DAC rules governing ODA, is optional and can be avoided if donors choose to do so. Where  IDRC comes from a limited ODA budget, as is the case for donors such as the UK, Sweden or Denmark, this becomes a case of neglecting the urgency to deliberately devote urgent funding to respond to both long-term and emerging global challenges.
Such a situation calls for a deepened understanding on existing aid relationships and interests of donor countries. The 2022 ODA figures highlight the degree to which donors' geopolitical and national interests continue to mold development cooperation, an issue long contested by The Reality of Aid Network. Donor countries facilitate their financing and support according to the political and socioeconomic agenda of their allies and  own governments. In effect, recipient countries are pressured, through political and socio-economic forces, as well as  aid relationships, to 'choose sides', undermining the primary focus of aid to eradicate poverty. Dominance of certain geopolitical and national interests also blindside the primacy of persevering the integrity of ODA above all donor interests.
Geopolitical interests and human rights concerns are manifested in current, and expected future levels of support for Ukraine through aid in comparison with past and ongoing conflicts in Iraq, Afghanistan, Myanmar, and Syria. In an analysis by The New Humanitarian, DAC members spent USD 7 billion more to help refugees through IDRC than they did on humanitarian aid for the world's worst crises in recent years. Meanwhile, the surge in assistance to Ukraine speaks of donor countries' prioritization of a conflict on Europe's doorstep over others.
Another example of ODA being used to leverage political gains is through the United States' "Countering Malign Russian Activities in Africa Act", which is seen by many as a blatant effort to impose US foreign policy conditionalities through aid allocations to Africa in the context of the Russian invasion of Ukraine. While it is not clear how the Act will impact aid provided to Africa, many foreign policies have an effect on how ODA is being allocated to the most marginalized as governments are bound by dubious bilateral agreements. This is also evident with how Asia Pacific donors tie their ODA with military assistance to counter adverse political, economic, and defense forces in the region.  Donors must respond to the real humanitarian and reconstruction needs of all people affected by conflict, which includes Ukraine as much as Iraq or others where the US or other donors have played a role either directly or otherwise..
The integrity of ODA is also being undermined by donors' 'financing gap' narrative where the DAC claims that ODA is not enough anymore to cover responses amidst worsening global crises. Although not highlighted in the 2022 ODA figures, donors have avoided the modest growth in their ODA by using aid in Private Sector Instruments to mobilize private sector resources for development purposes, through blended finance for example. In effect, the fundamental concessionality of ODA is ignored.
Private sector interventions through ODA lack evidence of effectiveness and they often contribute to low levels of transparency and democratic ownership of aid in recipient countries. Furthermore, involvement of the private sector through non-concessional aid for PSI further increases the debt distress in countries that are already under great economic duress. By focusing on aid flows that do not come from public spending, ODA is reinforcing a reality whereby for every US dollar in aid, USD 14 flows out of global South countries in private wealth drain, and this increases to USD 30 when profits returning to the global North are taken into account.
Pushing the envelope towards greater ODA integrity
To truly align ODA with the needs of the global South, DAC members must walk their talk of committing to preserve and strengthen the integrity of ODA. Again and again, we call on donors to fulfill and exceed the 0.7% GNI to ODA commitment to global South countries as well as the 0.15-0.20% ODA to GNI towards LDCs. Pushing this matter further, the planning for the 2025 Financing for Development Summit should include measures that strengthen the historical commitment of donor governments rather than a narrow few who have lived up to their obligations to the global South.
Donors must increase ODA transparency and accountability by making sure that financing for IDRC is excluded from ODA. The required support for Ukraine must be fully transparent in all ODA data to ensure that what donors are providing is additional aid for other purposes. The current state of ODA in which donors allocate funds on matters that will give them significant geopolitical and economic leverage disadvantages those in the global South and causes massive obstacles in achieving the Agenda 2030. Especially with the worsening impacts of the climate crisis, ODA must be resilient in providing sufficient and quality support for adaptation, mitigation, and loss and damage, together with other development priorities.
Effective Development Cooperation Principles (also known as Development Effectiveness Principles) must be upheld amidst precarities affecting ODA. Donor interests must not shape development priorities in the global South. Particularly, countries most affected by poverty, inequalities, and climate change should be able to maximize equitable partnerships alongside donors where they are able to decide how aid must be used to overcome humanitarian, development, and peace-related challenges. It also follows that ODA must be deployed through modalities that would not further incur paralyzing debt conditions, while increasing unjustified profits for powerful states and the private sector.
Ultimately, transformations in the aid architecture can only be demonstrated through system change in all aspects of development finance. To make this happen, civil society must forge stronger solidarities across borders to pressure donor governments to provide efficient, effective, and sufficient aid to the global South. In response, donors should reorient policies and practices towards those that will truly seek solutions to protracted global crises. As long as the current aid architecture persists as a tool that only benefits a handful of development actors, it is essential for civil society, people's organizations, and marginalized communities to remain critical and take action to drive aid towards delivering its promise of prosperity to those who have long been shouldering the burden of multiple crises.