1. What is Reality of Aid's Observatorio?
RoA's Aid Observatorio is a CSO-initiated and maintained database of development projects funded through the Official Development Assistance (ODA) or funded by International Finance Institutions (IFIs).
IFIs, such as IMF-WB, ADB, and AIIB, have met strong criticisms and protests from civil society and grassroots communities because of aid conditionalities that impose market-driven, export-oriented, neoliberal policies on developing countries. These conditionalities and projects that IFIs finance in the region continue to undermine human rights and domestic democratic processes, and have resulted into negative social outcomes which include (but are not limited to) persistent underdevelopment and poverty, violations of individual and collective rights, and environmental destruction.
IFIs also play a role by providing financing for partnerships that bolster the private sector's role in development, which contribute to the privatization of natural resources and public services, without clearly establishing safeguards, accountability standards and other human rights standards.
This Aid Observatorio, thus, offers on ground narratives and evidence-based analysis of development projects in fragile nations and developing countries. The impacts of the projects are monitored and evaluated in terms of Development Effectiveness Principles and of the following areas: 1) human rights, 2) democracy, 3) peace and security, and 3) environment or climate. Relevance and linkage to achieving the Agenda 2030 Sustainable Development Goals (SDGs) are also assessed.
2. What is the purpose of our Observatorio?
The objectives of RoA's Aid Observatorio are as follows:
Promote awareness and transparency on the management of aid by recipient governments and other providers (i.e. IFIs) in the region,
Aid research and analysis on the trends and impacts of development projects and public-private partnerships in the region,
Assist engagement of CSOs with recipient and donor governments and other providers for the effective and efficient use of public funds and for the protection of human rights and democracy,
Assist advocacy campaigns of communities or grassroots and peoples' organizations for the assertion of their democratic rights and for seeking transparency and accountability from governments and other providers, and
Facilitate shared learning and discourse among CSOs, policymakers, academia, media, and activists for the promotion of a human rights-based, people-powered sustainable development and forwarding of critical solutions or recommendations.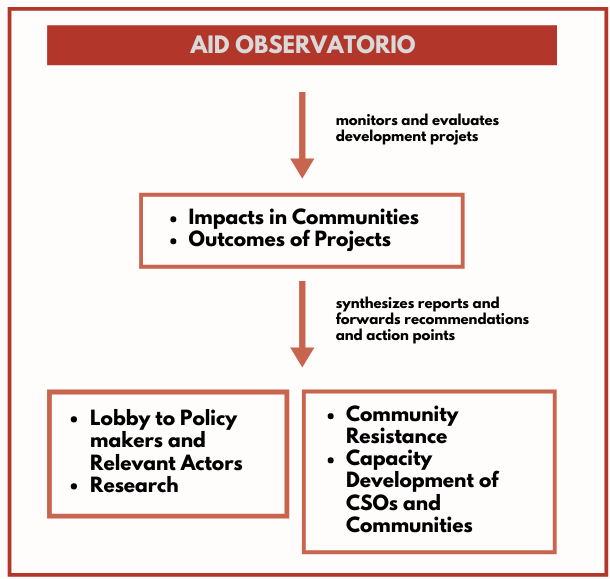 3. How can you contribute to our Observatorio?
An individual or an organization can monitor and evaluate ODA- or IFI-funded development projects (from 2015 onwards) in a community or area of responsibility by simply answering this Aid Observatorio form.

The Aid Observatorio is a continuing initiative. Information can be submitted anytime and by anyone. Reality of Aid will set up an interactive, visual database for the entries. In the meantime, explore the map above for published reports. Anyone can download the reports for free.
Research and Publications
RoA Reports
Global Secretariat
3F 114 Timog Avenue
Quezon City, Philippines 1103
+632 927 7060 to 62 loc 201
secretariat@realityofaid.org